Unlimited Accidental Damage Protection (UADP) is one of the best-kept secrets for device repair. Organizations that keep a large inventory of mobile devices are asking a similar question: how do we keep our devices operating at peak performance with so many devices exposed, vulnerable and returned daily for maintenance and repairs? UADP is one answer that many have turned to in order to save time and money. ADP has proven to be an effective solution to combat the rising break fix and device issues. You can find more details about our actual service by visiting our K12 Device Repair page or paste the following link into your browser: https://www.clearwinds.net/device-repair-service/!
The K12 Device Repair Problem:

On average, accidental damage occurs on nearly half of all devices sent home with students and staff. Since the overall amount of devices sent home has increased, break-fix issues have begun to skyrocket. This trend will continue over the next few years as more devices are distributed to accommodate remote learning and work needs.
Many Are Reconsidering Their K12 Device Repair Process
Currently, most IT teams utilize critical internal staff and resources to meet device repair needs while delaying more important projects. The cost and effort spent towards device repair is growing astronomically. The increase in devices and repair needs has forced many organizations to reconsider their approach towards device repairs.
We have seen firsthand that many organizations who distribute a large amount of devices have not been able to sustain an in-house repair model. The recent increase in devices for remote learning has further solidified this problem. Many have considered outsourcing repair and warranty work, however they have encountered contractual issues with warranty coverage.
The Solution:
Safeguard Your Investment in Devices with UADP
We firmly believe that UADP is the best solution on the market. Why? When you choose UADP, you're able to rely on a certified IT partner like Clear Winds to provide a turnkey device repair solution. I have seen firsthand how quickly IT leaders have been able to refocus on greater tasks because they chose to safeguard their investment in devices and get out of repairs through a simplified service like UADP.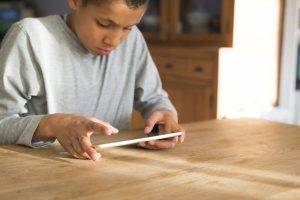 The best part about UADP: you purchase your plan once and we will resolve all aspects of the repair process and provide unlimited repairs for your devices for the lifetime of your plan. Your accidental damage protection plan allows you to make one call and relax knowing a certified team will handle all the logistics and return your devices to peak performance in a timely manner. Your devices may already be covered and eligible for free repairs based off of you initial device purchase!
The UADP K12 Device Repair Process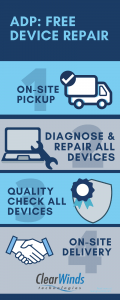 As Dell All-In partners, we are able to offer UADP and perform all UADP and warranty work with our Dell certified technicians. We can perform the work either in our Dell certified repair shop or at your location! Not only are we Dell certified, but our technicians also have the ability to perform certified repairs on nearly every manufacturer. Through our simple process, we will:
Come onsite to obtain devices

Perform full diagnostics on each device

Repair each device & complete verified quality check

Return all devices to your site location
In most cases, this service is already free depending on your current warranty or protection plan. We provide two options:
Free device repair for any new/current Dell device with accidental damage or warranty plan

Free device repair for any new/current device with a purchased UADP plan from Clear Winds
Clear Winds UADP plan varies based on the quantity of devices covered. If you're curious about the costs or about what coverage you may already have on your devices, let's talk today. We can provide warranty information or a quick estimate by simply knowing your device manufacturer and quantity. I encourage anyone with a large amount of devices to start a conversation with us about Unlimited Accidental Damage Protection. I can also connect you with partner schools currently utilizing UADP that would be happy to share their experience.
Join schools and organizations throughout the Southeast that have freed up their IT teams for more pressing tasks and rely upon Clear Winds! If you would like to get a free estimate, just click the button below to share the short details needed. You can also call me directly at 205-473-1643!