Cybersecurity Training for Business
At Clear Winds Technologies, our goal is to provide excellent IT service for businesses while also building IT partnerships that prepare organizations for the technological needs of doing business in the 21st century. One of the areas of need that continues to present itself is training on the fundamentals of cybersecurity and cybersecurity training in business.
Cybersecurity Training Details
Evaluating your current cybersecurity posture and developing a plan of action is now a critical step for business leaders. To help combat the growing cybersecurity threats, Clear Winds will continue to provide CISSP-developed cybersecurity training to organizations throughout the Southeast. We are excited to share about our upcoming training session for small to medium sized businesses at the Tri-County Community College on June 28! At this event, you will learn how to protect your organization from cybersecurity issues in a free Lunch & Learn event on June 28 from 11:30 a.m.–1:00 p.m. EST at Tri-County Community College, Crisp Building, Room 100.
Cybersecurity Training Topics
Stan Sargent, President and CEO of IT solutions company Clear Winds Technologies, will present on the topic, "You've been Hacked: Cybersecurity Case Studies and How to Minimize Vulnerabilities." According to IBM, cyberattacks can result in multi-million dollar mistakes, so it is important to learn how to secure your organization. As a result of attending, participants will learn what areas of an organization need comprehensive cybersecurity, how to prevent cybersecurity issues, and how to effectively resolve cyberattacks. Be sure to register for the event by June 23. Click here to register.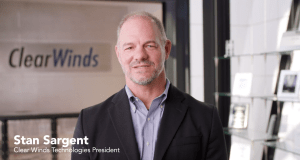 Cybersecurity Training Speaker:
Stan Sargent is a seasoned IT expert who founded Clear Winds Technologies in 2001 because he believes every company deserves knowledgeable, responsive, and friendly IT support. In the last 22 years, Clear Winds has expanded to provide a wide variety of IT services for business in every industry. Clear Winds is committed to providing top notch IT services & managed cybersecurity services to organizations nationwide. Clear Winds cybersecurity solutions have been developed by our staff CISSP engineer and range from cybersecurity assessments and training, to protection plan development and managed cybersecurity monitoring, to 24/7 Managed IT Services and cloud backup solution options. You can learn more about Clear Winds cybersecurity options by clicking here or contacting them at sales@clearwinds.net or by phone at (205) 986-4490.